You need to be detail-oriented and creative to work as a pattern and dress maker, but how do you showcase your talent on paper? Use our pattern maker and dress maker resume templates to learn unique ways to express your abilities and experience. Your goal is to prove to a hiring manager you have what it takes to work effectively and accurately.
Our writing tips range from advice on creating impressive content to the basics of professional formatting. With these resources at your fingertips, you can translate your knowledge and background into a persuasive resume.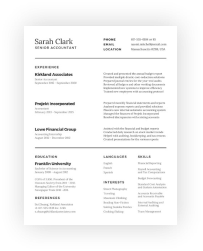 Free Textile And Apparel Resume Templates for Industry Professionals
Browse templates and job-specific examples of professional textile and apparel resumes.
How To Mention Your Pattern Maker and Dress Maker Experience
As someone who dedicates his or her time and energy to creating apparel, you know that presentation matters. Wow potential employers with dynamic words, and illustrate your understanding of their companies' needs by reflecting the language of the job posting in your writing. Our library of pattern maker and dress maker resume templates includes wonderful examples of experience descriptions:
• Use base patterns and design software to create new garments that meet established brand requirements
• Use measurement increments adopted by company to grade patterns; make design adjustments for differing sizes as necessary
• Attend fittings to evaluate fit on both live models and body forms and work with designers on revisions
• Create marking data, pattern piece listings, spec measurements, construction details, and sample verification; enter information into company system
• Update system to track pattern-creation progress and work with design department to generate style-construction standards
Pattern Maker and Dress Maker Resume Tips
While there's no one right way to write a resume, there are a few standard techniques that can bolster just about any document. For example, many of the pattern maker and dress maker resume templates in our library demonstrate one or more of the following techniques:
1. Personalize Your Pattern Maker and Dress Maker Resume:
Show employers that you can embody their brands by tailoring your document to each specific job listing. For example, you can identify significant phrases from the listing and fold them into your own writing.
2. Write a Powerful Summary Statement:
The summary statement is the perfect place to show off the innovation that makes you a prized pattern maker. Keep it professional, but don't hesitate to flex your creative muscles, too.
3. Use Specific Examples and Experiences:
You have a wealth of experience to draw on when creating your document. Think of specific times when you utilized your expertise or went out of the box to solve a problem.