Executive assistants play a key role in providing essential support for company leaders. Organization, creativity, communication, and problem-solving are just some of the qualities employers seek in applicants for this position. In some industries such as law and medicine, employers may also want to see specialized knowledge.
Including major qualifications on your resume lets employers know you understand the importance of performing your job well. As a first step, proofread your document to avoid embarrassing errors that contradict your claims of meticulousness. Next, view our executive assistant resume templates and writing advice to upgrade your document even further.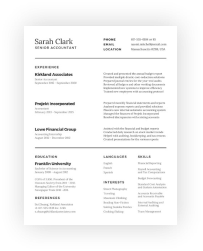 Free Administrative Support Resume Templates for Industry Professionals
Browse templates and job-specific examples of professional administrative support resumes.
How To Mention Your Executive Assistant Experience
Professional executive assistants use a mix of technical and general skills to deliver stellar job performance. Impress potential employers by using action verbs to describe your professional activities. Using specific terms from the job posting positions you as a good fit for the role.
Our executive assistant resume templates include excellent work experience sections that showcase the applicants' successful track records. The following entries offer a helpful starting point:
• Provide a full range of administrative, communications, informational, and logistic support to Chief Financial Officer
• Manage executives' travel schedules, book hotels and tickets, handle changes in plans, and ensure effective communication between all relevant parties
• Research and prepare meeting agenda, memoranda, and correspondence; compile sources for data citations; review written materials for spelling and grammar
• Schedule and coordinate company meetings, activities, and workplace initiatives; collaborate with various departments and outside vendors to produce events
• Manage face-to-face and phone interactions on behalf of the executive, greet visitors to the office, and address their needs appropriately
Executive Assistant Resume Tips
Composing a job-winning resume can be easier than most people assume. You do not need to jump through complicated hoops to craft a document that will impress hiring managers. Our executive assistant resume templates work because they incorporate the following vital approaches you can easily apply to your own writing:
1. Personalize Your Executive Assistant Resume:
Adapt every resume you send to each employer. A document that emphasizes your fitness for a specific position tends to make more impact than a resume you clearly sent to a hundred other companies.
2. Write a Powerful Summary Statement:
Modern tips on how to write a resume favor a summary over an objective statement. A brief pitch that lets employers know what you bring to the job is more likely to keep hiring managers reading.
3. Use Specific Examples and Experiences:
Specific descriptions of your successes tend to stand out. Plus, it is easier for hiring managers to trust concrete assertions they can check. Use metrics such as revenues you increased or employees you supervised.