Court reporters have important civic duties. They are responsible for attending court proceedings, hearings, and depositions, and they must write down the dialogue using highly-specialized equipment. Regardless of your experience level, you need to make the argument that you are the ideal person to have this position.
You can see how other jobseekers have accomplished this through the professional stenography and court reporting resume templates. By learning what other professionals have done in the past, you can make strategic edits to your own application. This will make you a stronger candidate in a few minutes.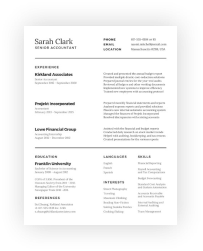 Free Administrative Support Resume Templates for Industry Professionals
Browse templates and job-specific examples of professional administrative support resumes.
How To Mention Your Stenography and Court Reporting Experience
Stenographers work with attorneys and judges, and they must submit an official report of all the dialogue spoken for cataloging later. You need to demonstrate that you can handle all the responsibilities by seeing how the stenography and court reporting resume templates have conveyed this information. They all use compelling verbs and mirror language typically found in job listings. Here are some example of work history statements that will look great on your application.
• Utilize stenomasks and electronic stenograph machines to record verbatim statements at committee meetings, legislative assemblies, and court proceedings
• Create transcripts of court statements at the request of members of the public, lawyers, and judges
• Ask speakers in the courtroom to repeat or clarify inaudible statements
• Respond to requests in the courtroom to read portions of the transcript already written
• File clear transcripts of all court records with the court clerk's office
Stenography and Court Reporting Resume Tips
Reviewing a bunch of stenography and court reporting resume templates is simply the first step of the editing process. You also need to abide by a few simple tips to catch hiring managers' eyes. Review the resume you have now to see if it could benefit from any of the following actions:
1. Personalize Your Stenography and Court Reporting Resume:
Your resume should be perfectly suitable for the exact job you apply for. That includes seeing if the job ad repeated any skills you possess or that you could emphasize on your application.
2. Write a Powerful Summary Statement:
A huge number of hiring managers only spend about five or six seconds skimming a resume to see if it is worth reading in detail. The summary statement comes first, so it needs to be the best section.
3. Use Specific Examples and Experiences:
You do not necessarily need a separate accomplishments section, but you should mention them periodically throughout the work history section. These achievements truly show that you have the skills necessary to benefit the company.