To get the mechanical engineer job you want, you need to provide hiring managers with a compelling resume. This important document should show your understanding of mechanical processes and machinery and your ability to quickly and effectively perform numerous important tasks.
How do you craft such a resume? First, peruse our writing advice to learn how to present your previous work experience and tailor your text to the job you are pursuing. After that, take a look at our helpful mechanical engineer resume templates from actual professionals in your field for even more inspiration as you create your document.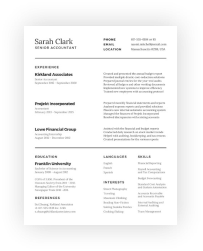 Free Engineering Resume Templates for Industry Professionals
Browse templates and job-specific examples of professional engineering resumes.
How To Mention Your Mechanical Engineer Experience
Mechanical engineers must know how to perform a variety of technical tasks, so it is important to display your most relevant experience in your resume. Make sure you describe your past work with strong action verbs and phrases from the job advertisement. Use our mechanical engineer resume templates and the following sample work descriptions for help with this:
• Supervise and assist with installation, maintenance, troubleshooting, and repair of mechanical systems, equipment, and products
• Monitor operations of mechanical systems and implement modifications to improve efficiency and reduce risk of malfunctions
• Read technical drawings and blueprints accurately to ensure the competent design and production of new products
• Research, test, and develop new system procedures and equipment adjustments to conform to environmental regulations
• Work with other engineers, suppliers, and vendors to obtain cost-effective prototypes and parts for new machines
Mechanical Engineer Resume Tips
To get interviews and job offers, you need your resume to be as impressive as possible. Use our mechanical engineer resume templates and this relevant resume sample to start creating a stellar document. Then use the advice below to make your content even stronger in just a few simple steps.
1. Personalize Your Mechanical Engineer Resume:
Tailor your document to the job to which you are applying by looking for keywords and important phrases in the position's advertisement. Include these terms word for word in your text to intrigue prospective employers.
2. Write a Powerful Summary Statement:
Encourage employers to consider your candidacy by detailing a few top proficiencies, achievements, and experiences in your summary. Focus this section on how you will benefit the company rather on than your own professional goals.
3. Use Specific Examples and Experiences:
Write in your document succinct stories of previous responsibilities and accomplishments to show your various proficiencies in action. Such illustrations are memorable and can increase your chances of landing an interview.