A good telecommunications engineer needs to have excellent technical and analytical skills, and your resume needs to demonstrate these and other abilities in a clear way. When writing your resume, make sure you include not only your relevant skills but also your overall work history, education, and professional value.
Using a telecommunications engineer resume template is a great push-off point to composing your own. You will find a number of real-life resumes to consult. We will also give you advice on how to organize impertinent information in a way that gets noticed.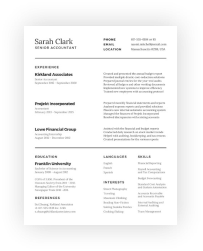 Free Engineering Resume Templates for Industry Professionals
Browse templates and job-specific examples of professional engineering resumes.
How To Mention Your Telecommunications Engineer Experience
Including specific information is important, but so is how you phrase the content. You should use strong action verbs that help the hiring manager picture how you perform on a daily basis. It helps to reference the job description, as you can mirror its language and key phrases to help your resume stand out over other applicants. Take a look at how the telecommunications engineer resume templates word experience. Here are some additional examples:
• Conduct quality checks of system installations and make adjustments as necessary
• Monitor wireless and wired networks; develop and maintain documentation on all infrastructure
• Meet with clients and design solutions to meet their telecommunication requirements; develop relationships by continually managing these requirements
• Train new hires; provide ongoing training as well as product education and technical assistance
• Lead root cause and troubleshooting analysis for complex systems; develop protocols for proactive improvement of existing networks
Telecommunications Engineer Resume Tips
This may be the only chance you have to make a good impression, and there is a lot of advice on how to write the perfect resume. Peruse our telecommunications engineer resume templates for ideas on how to write your own. The following tips can also help strengthen your resume dramatically:
1. Personalize Your Telecommunications Engineer Resume:
Do not use the same exact resume for each job you apply for. Personalize it for each position by using phrases from each of the job descriptions.
2. Write a Powerful Summary Statement:
A professional summary statement can set you apart from the pack. Use a few sentences to describe your most relevant skills and experience to grab the attention of the recruiter.
3. Use Specific Examples and Experiences:
The hiring manager understands what the general duties are of a telecommunications engineer. Stand out by providing numbers and specific examples to demonstrate how you can deliver value to the position.