Talented special effects professionals capture the imagination of an audience and dazzle them with stunning visual images. In a similar way, your resume must accomplish the same goal. When you select one of our well-crafted special effects resume templates, you can showcase your artistic sensibilities and technical know-how in a way that excites the reader.
An effective document draws attention to your value, qualifications, and work experience, explaining why you're the right person for the job. By following the advice of our expert contributors, you can learn how to make the rights edits that help you design an eye-catching resume that gets results.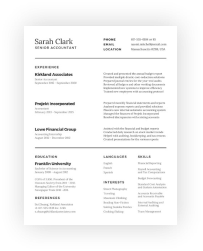 Free Entertainment And Media Resume Templates for Industry Professionals
Browse templates and job-specific examples of professional entertainment and media resumes.
How To Mention Your Special Effects Experience
Special effects artists and technicians play a vital role in the media and entertainment industry. They help create storyboards, animations, and designs for TV, film, video games, and other media platforms. Our special effects resume templates show you how to draw the reader's attention to your skill set using action-oriented words and terms from the job description:
• Collaborate with a team of visual effects artists, animators, designers, and engineers to create visual assets
• Consult with motion picture directors, producers, production designers, and actors to determine the types of effects required
• Utilize industry-standard software, such as Adobe After Effects, Adobe Photoshop, Adobe Illustrator, and Adobe Premiere Pro
• Calculate budget costs for atmospheric effects, special character rigging, explosions, simulated blood, and other bodily fluids
• Apply effects and touch-up makeup for performers, in both the dressing room and the field, throughout the production
Special Effects Resume Tips
These special effects resume templates are powerful tools in your job search arsenal. Each one is customizable to fit your needs. When you follow these expert writing tips, you're well on your way to landing the job you want.
1. Personalize Your Special Effects Resume:
Don't rely on a one-size-fits-all resume. Instead, tailor your document so it addresses the specific requirements of each job listing. As you read the employment ad, look for repeated keywords, and include them in your document.
2. Write a Powerful Summary Statement:
It takes recruiters about six seconds to reject or accept a candidate's resume. A professional summary is a great way to grab the reader's attention because it briefly explains why you're the most qualified applicant for the position.
3. Use Specific Examples and Experiences:
Illustrate how well you excelled in your profession. Mention achievements related to your job duties and responsibilities. You can improve your chances of getting an interview and securing employment when you demonstrate how your skill set benefitted an employer.