A resume is your first chance to impress a hiring manager. With only a few pages, you have to convince a future employer that you're the best candidate for an open position.
Here you can find a plethora of ways to put your best foot forward. We have a catalog of tips you can utilize and a library of catering resume templates submitted by actual professionals. See how individuals in the field organize their documents and how they articulate their skills and work history. With some time and attention, you can build a resume that does you justice.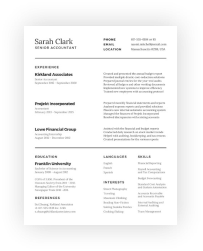 Free Food And Beverage Resume Templates for Industry Professionals
Browse templates and job-specific examples of professional food and beverage resumes.
How To Mention Your Catering Experience
When writing a resume, you need to think of your document's language as well as its content. One way to catch a manager's eye is to incorporate significant words from the job posting into your own writing as a way to "mirror" the ad's language. You also want to use strong action words, especially when describing your previous job duties, as exemplified in our catering resume templates:
• Maintain knowledge of preparations and menu items, as well as all pricing and applicable discounts for certain events
• Clean and organize preparation and cooking environment, ensure environment and staff adhere to health code standards
• Present a friendly and helpful demeanor to clients, listen to clients' needs, and accommodate as efficiently as possible
• Complete all pre-shift and post-shift duties, restock supplies in the storeroom, all in a timely manner
• Maintain knowledge of operation information, and adhere to all catering standards, procedures, and policies, including uniform and appearance standards
Catering Resume Tips
Our food service and catering resume templates use great techniques that you can emulate in your own writing. A few simple tricks can increase the impact of your resume and leave a lasting impression on hiring managers. The following tips can lend a new dimension to your professional document:
1. Personalize Your Catering Resume:
While a template can be useful when creating your resume foundation, you should take the time to personalize your document for each job posting. Look for keywords used in the ad and include them in your own writing.
2. Write a Powerful Summary Statement:
The summary statement should be short but impactful. This is essentially a description of your qualifications. Your effective use of language can also give hiring managers an idea of your personality.
3. Use Specific Examples and Experiences:
Include details when describing your work history, such as your previous job duties. Use this space to recount moments when you went above and beyond. These specific examples can showcase your abilities better than just listing skills.