Choose the right resume for any type of job from our large collection of food and beverage resume templates. We make it simple to compare and customize resume designs for bartender, busser, cook, and related food and beverage positions and create a resume that will help you get the job you want.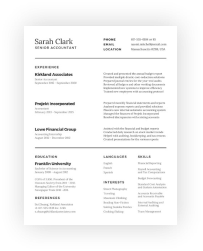 Free Food and Beverage Resume Templates for Industry Professionals
See top resume templates for the food and beverage industry with job-specific examples.
Find the Perfect Food and Beverage Resume Templates
The food and beverage industry is always developing and changing. Job market experts predict that this field will grow at a steady rate over the next several years. The forecast for restaurant positions is even brighter. The number of processing jobs is also growing at a slower rate.
We have food and beverage resume templates for bar, restaurant, or processing positions. Start by comparing samples and choosing a design. We make it easy to customize this document and make a polished resume. Our resume samples have job-specific text from real users seeking jobs. Learn how to meet or exceed employer expectations in every resume section. Our templates and writing tools can help you format and fill out your document. Find out how to write a resume that will make a positive impression on employers.
If you are seeking a job in food service, we can help you write a resume that shows off your cooking skills. Hosts and servers usually need business and service skills. Food or beverage processing may call for other traits. No matter what kind of job you want, we have templates that can help you get hired.
Additional Popular Food and Beverage Resume Templates
These are just a few selections from our large collection of food and beverage resume templates. Search for designs for other positions in this industry. You can find templates for prep cooks, sommeliers, servers, and more. We base our examples and layouts on real resumes from jobseekers in this field.
Additional Food and Beverage Resources
: Find out about the number of jobs and rate of employment change in the food and beverage field. This federal agency gathers statistics on pay, education, and experience levels.
: Learn more about food and beverage jobs from this occupational guide.
: This group tracks service industry jobs and trends and publishes their findings.