A skilled business development professional must be capable of handling multiple client accounts at once while seeking out new clients for her or his company. This ability to multitask must stand out in your resume, which should also underscore your professional capabilities, job history, and personal talents. Simply put, an effective business development resume should prove to the manager that you are the best candidate for the job.
This may sound difficult at first, but with a bit of effort and help from our business development resume templates, you can create a resume that is sure to impress even the most discerning hiring manager.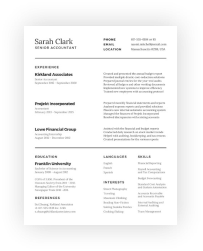 Free Green Jobs Resume Templates for Industry Professionals
Browse templates and job-specific examples of professional green jobs resumes.
How To Mention Your Business Development Experience
Business development professionals are an essential part of the marketing department of any company. They help businesses find new clients and keep existing ones happy. Our business development resume templates can help you craft a resume that emphasizes your ability to interact positively with clients and generate revenue with the use of action verbs and by mirroring the language found in the job listing:
• Create strong and healthy professional relationships with clients by providing them with excellent business services
• Network with other business development professionals and attend professional trade fairs to discover new clientele
• Work with marketing department to strategize and craft campaigns to attract new clients from a variety of backgrounds
• Set client recruiting goals for those working in the business development department and ensure regular success
• Communicate and follow up with current clients to ensure they remain happy with services and recommend company to others
Business Development Resume Tips
Viewing our collection of business development resume templates is a great way to get started on your job search and learn about what hiring managers want to see in resumes. However, to write a resume that truly stands out, you will want to keep the following tips in mind.
1. Personalize Your Business Development Resume: Jobseekers can personalize their resumes by seeking out keywords in the job description and integrating them into their resumes. Do not use too many keywords, and make sure they sound natural.
2. Write a Powerful Summary Statement: An effective summary statement will provide the reader with an in-depth overview of your professional background, abilities, and skills. It is the first thing hiring managers read, so it must be well-written.
3. Use Specific Examples and Experiences: By incorporating specific examples and experiences into your resume, you can show the hiring manager that you are capable of handling both difficult and everyday situations. Just be sure the examples are relevant to the job you want.