Savvy detectives and criminal investigators can spot clues, round up evidence, and gather facts to solve crimes. When it comes to preparing an effective resume, it's important to gather all the right information as well. Often, this means having detective and criminal investigator resume templates at your disposal.
These documents help you build a case for why a prospective employer should hire you. You present the evidence in the form of your relevant skills, work history, accomplishments, and education. If you need more assistance, let our experts show you how to put together a document that gets you the position you seek.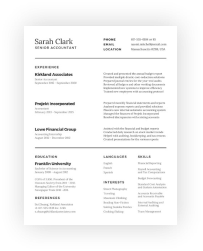 Free Law Enforcement And Security Resume Templates for Industry Professionals
Browse templates and job-specific examples of professional law enforcement and security resumes.
How To Mention Your Detective and Criminal Investigator Experience
Detectives and criminal investigators play a key role in the law enforcement and security sector. They track suspect activities, prepare cases, and testify in court. Our detective and criminal investigator resume templates provide examples of how to showcase your skill set and background by using action verbs and language employers include in their job listings:
• Discover fraudulent plans to conceal illegal criminal activities and to deter individuals from trying to commit similar crimes
• Interview and question individuals to obtain confessions from suspects as well as gather relevant information from witnesses, victims, and others.
• Sign sworn declarations and criminal complaints needed to support an arrest made based on probable cause or issue arrest warrants
• Use computer platforms to obtain data and information from federal, state, and local computer databases
• Serve as lead investigator of crimes involving identity theft, embezzlement, fraud, forgery, and other assigned crimes
Detective and Criminal Investigator Resume Tips
Detective and criminal investigator resume templates are part of a strategic job search plan. These documents make the writing process easy. It only takes a few adjustments to tailor the content needed to meet your specific needs. Following the resume-writing tips from our contributors helps ensure that you make the best impression on recruiters.
1. Personalize Your Detective and Criminal Investigator Resume: The last thing you want is a cookie-cutter resume, so add some color to your document, but don't go overboard. Keep it conservative, and stick with one accent color, such as blue.
2. Write a Powerful Summary Statement: This brief paragraph appears in the top one-third of your document, so it's a section hiring manager pay close attention to. Use four to six lines to illustrate why you're the best candidate for the role.
3. Use Specific Examples and Experiences: The work experience section allows you to draw a recruiter's attention to how well you function in the workplace. Emphasize the skills you use to achieve specific results by quantifying these details with percentages, numbers, and figures.