When you're applying for operations management jobs, you need your resume to do one essential thing: prove to the hiring manager that you have the skills and experience to succeed in the role. A strong document showcases your ability to manage people and projects effectively to deliver the results employers want.
Referencing example resumes is one of the easiest ways to make sure your own document has all the right elements. Our library of operations management resume templates can provide you with numerous real-world examples. Combine these resources with our proven writing tips, and you'll have everything you need for a standout document.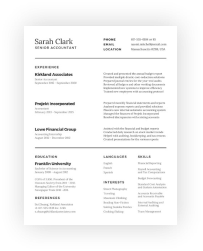 Free Management Resume Templates for Industry Professionals
Browse templates and job-specific examples of professional management resumes.
How To Mention Your Operations Management Experience
While it's wise to follow all of the standard resume-writing rules, you should remember that how you describe your professional experience is just as important as what information you put on your document. Use terminology from the job ad and strong action words, as shown in the operations management resume templates. Here are some other examples:
• Negotiate with suppliers to ensure prompt delivery of materials that meet all contractual requirements for quality and budget
• Oversee employees, including preparing work schedules, approving vacation time, assigning specific tasks, and verifying work performance
• Analyze and review budget information to verify project expenditures and profits to improve overall financial performance
• Manage production operations, including coordinating shift schedules, collaborating with team leaders, and communicating with distributors
• Collaborate with sales team to provide production statistics for sales presentations, and apply customer feedback to improve project results
Operations Management Resume Tips
Studying our operations management resume templates can help you determine the format and content for your own document. Once you have a first draft, you can utilize these simple tips to finesse your writing. A well-written resume gives you the best chances of making a positive impression on potential employers.
1. Personalize Your Operations Management Resume: You may want to submit your standard resume every time you apply for a job. However, crafting a customized resume helps you stand out from other candidates.
2. Write a Powerful Summary Statement: Most hiring managers spend just a few seconds on each resume. Starting your document with a strong paragraph or bulleted list describing your top qualifications can intrigue a reader and make your application memorable.
3. Use Specific Examples and Experiences: Don't bore your readers with laundry lists of your daily tasks at previous jobs. Include short snippets of certain times your operations management skills brought about impressive, measurable results.