Are you looking for a machinist job? If so, the best place to start is with your resume. You cannot underestimate how important this document is. Many hiring managers rely entirely on the resume of applicants to make their decision. After reading yours, employers should immediately be confident in your ability to work quickly and effectively.
To make your resume as strong as possible, take a look at our machinist resume template. You can see what aspects work well for the machinist position specifically and what kinds of information should appear on your own machinist resume.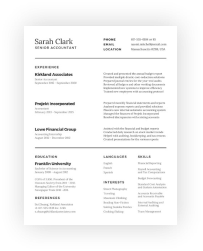 Free Manufacturing And Production Resume Templates for Industry Professionals
Browse templates and job-specific examples of professional manufacturing and production resumes.
How To Mention Your Machinist Experience
Out of your entire resume, there may be no section more important than the experience section. Surprisingly, however, the format of this section is nearly as important as the content. After all, the way you organize the information determines how easily the reader understands it. Be sure to check our machinist resume template.
• Set up equipment and machines for operation, ensuring all machines are completely functional before use
• Inspect all machines for issues, fixing them immediately if possible or creating a malfunction report
• Perform machine maintenance to prevent unnecessary damage, including lubricating parts and replacing worn out parts
• Clean, measure, and package finished products according to field standards to meet all customer expectations
• Measure and inspect parts using precision tools, including calipers, depth micrometers, gauge pins, and thread micrometers
Machinist Resume Tips
The first step toward putting a stand-out and eye-catching resume is reviewing our machinist resume templates. The following detail the next few steps you should take to ensure that your resume is as strong as it possibly can be. Simply keep these aspects in mind as you write, and you can be more confident in what you create:
1. Personalize Your Machinist Resume:
Review the job description before you begin writing. Incorporate the language and skills from the posting to make your resume personalized to each new job opening.
2. Write a Powerful Summary Statement:
Your summary statement is the first thing employers read, which means they form their first impression from it. Take extra time to make sure your summary statement is as appealing as possible.
3. Use Specific Examples and Experiences:
Describe your previous work experiences, giving real examples and including real metrics. This makes the resume more believable, not to mention more appealing to readers.