Getting your resume updated should be step one in your job search, which is why you'll want to see these manufacturing and production resume templates. Each example provides guidance unique to your field that you can apply to your finished resume.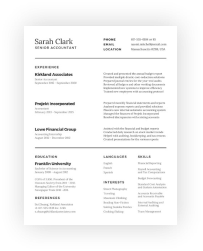 Free Manufacturing and Production Resume Templates for Industry Professionals
These top-notch manufacturing and production templates help you create a perfect resume.
Find the Perfect Manufacturing and Production Resume Templates
For as long as humans use machines, manufacturing and production jobs will be relevant. Although the Bureau of Labor Statistics reports a recent decline in manufacturing jobs, it also reports that this decline may slowly bounce back between now and 2022. With this decline, there will be a lot of competition, and you will want to show off your best skills. When you use manufacturing and production resume templates, you see examples of how to put your best foot forward.
The templates provided come from real-world job titles within the manufacturing and production industry. With more than 100 resumes to look at, you are sure to find something that fits your needs. Each template also has tips and best practices tailored to the job title shown.
The best way to use templates is to let them inform your resume decisions. This ensures your document looks professional but also has enough unique information about you to make it stand out. Using a template as a starting point means you have a quick and easy way to complete your resume and start applying for jobs.
Additional Popular Manufacturing and Production Resume Templates
This is just a handful of the industry-specific resume templates we offer, so we encourage you to keep looking to find the one that fits your job search. Manufacturing and production resume templates show you how to create your resume in a professional and engaging way to help you gain an interview.
Additional Manufacturing and Production Resources
: The BLS maintains a website offering information about growth potential, market activity, and working conditions. This section refers to producers and does include jobs that are outside the manufacturing industry.
: This resource goes into great detail about the activities a position may require and the kind of skills you need to do the job. You can search based on outlook, skills, job title, and many other factors. This link offers a look at specific manufacturing job titles.
: This is a partner site with O*NET and has resources to help you determine what job suits you or find a job based on your interests. This site also has resources specialized for veterans and non-English speakers.