To demonstrate your qualifications as a printing professional, your resume should describe the full range of desirable proficiencies, including relevant digital skills. Printers today can expect to work with graphics and publishing software, as well as with traditional printing processes.
In addition to emphasizing your level of skill, your resume should also tell employers about your commitment to the job, your attention to detail, and other attributes that make you a productive and welcome asset in the workplace. Our printing resume templates from real professionals show you how to select your information and shape it into an impressive document.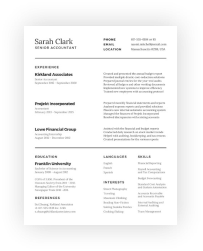 Free Manufacturing And Production Resume Templates for Industry Professionals
Browse templates and job-specific examples of professional manufacturing and production resumes.
How To Mention Your Printing Experience
Printing workers perform a wide range of duties, from hands-on machinery operation to digital publishing. As with other endeavors, there is a right way and a wrong way to list your work history. To stand out effectively, each part of your resume should include action verbs, mirror keywords and phrases from the job ad, and persuade employers they will benefit from hiring you.
Our printing resume templates offer inspiration for crafting your own work descriptions. Get started with some of the following examples:
• Use proprietary printing software, Adobe Pagemaker, and photo editing software to set printing images
• Review work orders to assess quantities and specifications, create schedule, and plan for completing project
• Operate a variety of printing presses, ensuring correct type of ink and paper, adjusting settings for optimal performance
• Troubleshoot presses, perform regular inspections, and request repairs as necessary
• Implement processes for quality control, inspect printed images to ensure compliance with standards and job specifications
Printing Resume Tips
If you want to land the job, you cannot afford to blend in with the crowd. As you see from our printing resume templates, engaging descriptions of your professional accomplishments go a long way toward crafting a document that stands out from run-of-the-mill applications. The following core principles form the basis of effective resume writing:
1. Personalize Your Printing Resume:
It's not enough to be a good printer, generally. Employers want to hear from applicants who would be great printers in their specific work environment. When writing a resume, Tweak your language to match that in the job listing to show that you will fit in well.
2. Write a Powerful Summary Statement:
Increase the chances of grabbing hiring managers' attention by starting strong with an informative, action-packed summary.
3. Use Specific Examples and Experiences:
Employers love seeing specific achievements they can easily verify. If you supervised a team, completed a challenging project, or saved your company money, including specific methods and numbers makes your writing more convincing.