Whether you're fresh out of school or have lots of experience in the field, job hunting can be stressful. Often, you must present your qualifications in a professional and compelling manner in a resume. Understanding what constitutes a quality resume can be beneficial in appeasing the expectations of a hiring manager. Our pharmacology and pharmaceutical resume templates make the process easy.
Showcase your abilities and capture the attention of a recruiter by simply filling in your information. You can also receive writing advice from career experts to sharpen your language and become a more competitive candidate. Pre-formatted sections ensure you won't have to worry about margins and spacing.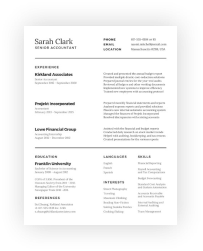 Free Science Resume Templates for Industry Professionals
Browse templates and job-specific examples of professional science resumes.
How To Mention your Pharmacology and Pharmaceutical Experience
Think carefully about how to phrase your credentials and demonstrate your competence. Make your resume interesting and easy for employers to read. Begin each sentence with an action verb, and use proper spelling and grammar. Also, read the job description to identify keywords to incorporate into your document. Use keywords exactly as they're written in a job description. This is an effective approach to get your resume past an applicant tracking system (ATS), which many companies utilize.
For further inspiration, take a look at the following job tasks examples:
• Dispense medication to patients and maintain an accurate inventory
• Answer patient questions and offer information about medications
• Contact doctor and medical facilities to resolve prescription discrepancies
• Collaborate with staff to maintain a clean facility and provide top-notch customer service
• Consult with patients about minor ailments
Pharmacology and pharmaceutical resume templates can take your resume to the next level. Choose from over 50 template designs that contain pre-formatted summary statement, skills, work history, and education sections.
Pharmacology and Pharmaceutical Resume Tips
According to the Bureau of Labor Statistics, pharmacist positions have an average growth rate. Our pharmacology and pharmaceutical resume templates can be beneficial in rising above other applicants in a competitive market. To enhance the content of your resume, master these three guidelines:
1. Personalize Your Pharmacology and Pharmaceutical Resume:
Recruiters want to find someone who is a good fit for the workplace culture. Examine the job description, and consider how you can tailor your information to show you can carry out job tasks with ease.
2. Write a Powerful Summary Statement:
A summary statement is a short sales pitch describing your best professional attributes. Keep it between three and five sentences. Recruiters often read summary statements first, so it is crucial to present yourself well.
3. Use Specific Examples and Experiences:
Metrics, numbers, and details are essential for a top-notch document. "Promoted to lead a team of 30 employees," for example, might cause a manager to favor you over someone who led a team of four.