Are you trying to get a job in the art and design field? You'll need a strong resume help make a great impression. Check out these comprehensive art, fashion, and design resume templates to give your job search a strong start. Read over the tips offered here to make it easier to land a coveted position.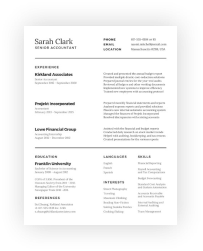 Free Art, Fashion, and Design Resume Templates for Industry Professionals
Learn more about how to create a winning resume for the art, fashion, and design field.
Find the Perfect Art, Fashion, and Design Resume Templates
If your ultimate wish is to get a job in art, fashion, or design, you have to stand out to employers during the job search. Jobs in in the arts and design industry will only grow about 4% in the next decade or so. Compared to other fields, the arts and design field may have more candidates vying for positions than open jobs.
That means you need to show high levels of promise, hard work, knowledge, and skill to be the one the employers pick. Use one of our art, fashion, and design resume templates to show all of this in a rock-solid resume that proves you have the know-how in your field to be a success. Writing a unique resume for the arts and design industry is tough. But you can do it if you focus on finding your niche talents and valuable expertise.
One way to help craft your resume is to use examples to aid your writing process. Here, you'll find a large selection of resume templates. You‰'ll also get to see expert resume advice to help you make a great first impression.
Additional Popular Art, Fashion, and Design Resume Templates
The arts and design field is vast and exciting for potential jobseekers. There are many more art, fashion, and design resume templates for candidates to use during their resume writing process. You can get ideas to help with your resume for multimedia specialist, fashion designer, interior designer, and more by checking out additional templates.
Additional Resources
‰ÛÒ This is a great source that links candidates to detailed job descriptions, industry skills lists, and more to help create wording and phrasing for a resume.
‰ÛÒ Check out this professional organization for design professionals to get expert tips for a career in this field.
‰ÛÒ For those who want to get a degree in this field, this association can help candidates find accredited programs in art and design. Individuals who want a career change or high school students can get help picking the perfect program for their goals.