Your career hinges on your ability to write a great resume. With free customer service resume templates, you can learn exceptional resume design. These real-world templates show documents that work in action. Try these great examples of winning content.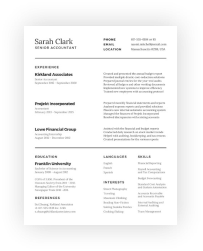 Free Customer Service Resume Templates for Industry Professionals
Learn what makes a professional customer service resume with industry-specific examples.
Find the Perfect Customer Service Resume Templates
Your resume is the key to landing the job you‰'ve always wanted; employers judge your resume before they ever meet you. Often, they make snap decisions in 10 seconds or fewer. With our customer service resume templates, you can make certain you pass. Our templates help you tailor your resume to meet industry standards. We also teach you how to integrate your personal talents to make your submission unique and individually you. While customer service jobs may be common, your resume should prove that you‰'re uncommonly qualified.
The U.S. Bureau of Labor Statistics estimates that in the U.S. alone, over 2,700,000 customer service jobs are available. Projections show 5% growth over the next years of job industry development. You want to rise to the challenge and join that growth wave with a ready-made resume. We‰'ll show you examples of real-world resumes that have worked for past candidates. This includes examples from various customer service fields. These samples and templates will break down the approach that‰'s best for you. Let us show you how to make your career shine.
Additional Popular Customer Service Resume Templates
Need more information and a few pointers on skillful resume writing? Take a look at more real-world customer service resume templates. Created by professionals in your field, these templates are sure to motivate and inspire you. Use them to learn how to show your worth as an expert customer service professional worth hiring.
Additional Customer Service Resources